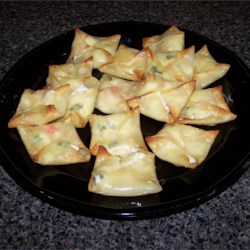 Prep Time:

30 Min
Cook Time:

20 Min
Ready In:

50 Min
Ingredients
1 quart oil for deep frying
2 (8 ounce) packages cream cheese, softened
2 tablespoons soy sauce
1 (12 ounce) package imitation crabmeat, flaked
1 (5 ounce) can water chestnuts, drained and chopped
5 green onions, chopped
2 (14 ounce) packages wonton wrappers
Directions
Heat oil in a large, heavy saucepan to 375 degrees F (190 degrees C).

In a medium bowl, mix the cream cheese, soy sauce, imitation crabmeat, water chestnuts and green onions.

Place approximately 1 teaspoon of the cream cheese mixture in the center of each wonton wrapper. Fold into triangles and seal edges with moistened fingers.

In small batches, fry the wontons in the hot oil 3 to 4 minutes, until golden brown. Drain on paper towels.
Footnotes
Editor's Note

We have determined the nutritional value of oil for frying based on a retention value of 10% after cooking. The exact amount may vary depending on cook time and temperature, ingredient density, and the specific type of oil used.
Nutritional Information
Amount Per Serving
Calories:
169
| Total Fat:
8.7g
| Cholesterol:
21mg